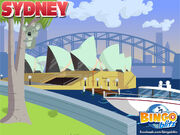 Sydney was one of the rooms that came with the first ever version of BINGO Blitz. You can claim BINGO's here with the traditional BINGO Blitz Patterns: Four Corners, Diagonal Lines, Horizontal Lines and Vertical Lines! 
Room Details
Level unlocked: 5
Cost per bingo card: 2 Credits
XP per daub: 2
Credit payouts: 2 to 48
Coin payouts: 100 to 800
Collection Items
Great White Shark (Shadow Card only)
Sydney Opera House (Shadow Card only)
Surf Board (Free Gift item)
Didgeridoo (Free Gift item)
Australian Food Paste
Jellyfish
Kangaroo
Great Barrier Reef
Sydney Harbour Bridge
Koala 
Croc Hunter
Boomerang 
Collection Completion Rewards
Upon completing this collection, you'll be able to collect an additional 4 Daily Credits every day you log in.