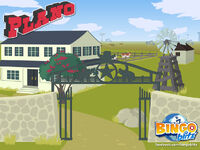 Plano is one of two rooms first available to all players new to BINGO Blitz! It is unique in that Power-Ups are not allowed, making it a great starting point for those new to BINGO Blitz, as well as those searching for a change of pace to the fast and furious gameplay of other rooms.
Room Details
[
]
Level unlocked: 1
Cost per bingo card: 1 Credit
XP per daub: 1
Credit payouts: 1 to 12
Coin payouts: 50 to 200
Unique Restriction: All Power-Ups cannot be used.
Collection Items
[
]
Rattlesnake (Shadow Card only)
Tumbleweed (Free Gift item)
Horseshoe (Free Gift item)
Oil Rig
Cowboy Gear
Texas Longhorn
Barbecue
Sheriff's Badge
Armadillo
Pickup T​ruck
Collection Completion Rewards
[
]
Upon completing this collection, you'll be able to collect an additional 2 Daily Credits every day you log in.