Jurassic World: Dominion Dominates Fandom Wikis - The Loop
Play Sound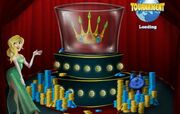 Daily Tournament is one of two Tournament Rooms in BINGO Blitz. This room is unique in that you can play five rounds each day for free - purchasing bingo cards won't cost you any credits at all! 
The goal in this room is to post the highest score you can, accumulated from the five rounds you play. Your score for every round is calculated by adding up coins collected from sucessfully daubed Coin Squares, as well as coin payouts for your bingos - finishing first, second, or third in a round results in a higher payout; regular bingos have a 50 coin payout. 
You're competing against thousands of other BINGO Blitzers around the world on a global leaderboard - the top scores will be displayed everyday.
Room Details
Level unlocked: 2
Cost per card: free!
XP per daub: none (daubs don't award XP here)
Credit payouts: 0 to 250
Coin payouts: 0 to 10000
Unique Restrictions: cards are free, XP is not awarded, maximum of five free rrounds can be played per day (additional set of five rounds can be purchased), collection set can be completed multiple times
Collection Items
Jewel of Victory (can only be won by finshing in the top 250 on the Global Leaderboard)
Jewel of Persistence (awarded by finishing between 251st and 500th place on the Global Leaderboard)
Jewel of Success (awarded by finishing between 501st and 750th place on the Global Leaderboard)
Jewel of Generosity (Free Gift item)
Jewel of Power
Jewel of Honor
Jewel of Glory
Jewel of Luck
Jewel of Immortality
Jewel of Hope
Jewel of Influence
Jewel of Compassion
Collection Completion 
Collect all 12 jewels to complete the Tournament Crown. Once you complete the first crown (the Bronze Crown), you will move on to the next crown (the Silver Crown) - there are five crowns to complete, which require a separate set of 12 jewels to finish.