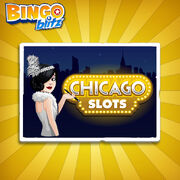 Chicago Slots is a BINGO Blitz Slots room unlocked at level 1.
Room Details
Level unlocked: 0
Win: Coins, Keys, Power Ups, Credits and Collection Items! 
XP per Spin: 1 per 500 bet (500 minimum bet for XP)
Scatter: Minimum bet to find Collection Items = 100 Coins
Coins: String common symbols to win coins (higher the bet, higher the rewards!)
Collection Items
Fedora
Chicago Medallion (Wild)
Mob Boss
Flapper
Tommy Gun
Hooch (Scatter)
Police Badge
Getaway Car
Gatsby Shoes
Jazz
Newspaper
Mug Shot 
Collection Completion Rewards
Upon completing this collection, you'll be able to collect a one-time payout of 50,000 Coins, and a new Frame.